With:
Lisette Smits (Curator, Researcher, Educator),
Rosanna Lovell (Musician, Educator)
Jürg Andreas Meister (radio host, media composer)

Moderated by Julia Herfurth and Beatrijs Dikker
During this two hour radio salon we go into the practices of our guests, each working in their own way as programmer/curator/artist/collaborator/educator. We hope to connect different positions, find similarities and differences and learn from each others experience. We will talk about voice as an artistic medium, the practice of creating and giving a platform or space for particular voices as well as speaking vs listening. Alternately we will listen to short audio-fragments connected to the practices of our guests. We will listen and review them together during this two hour radio show.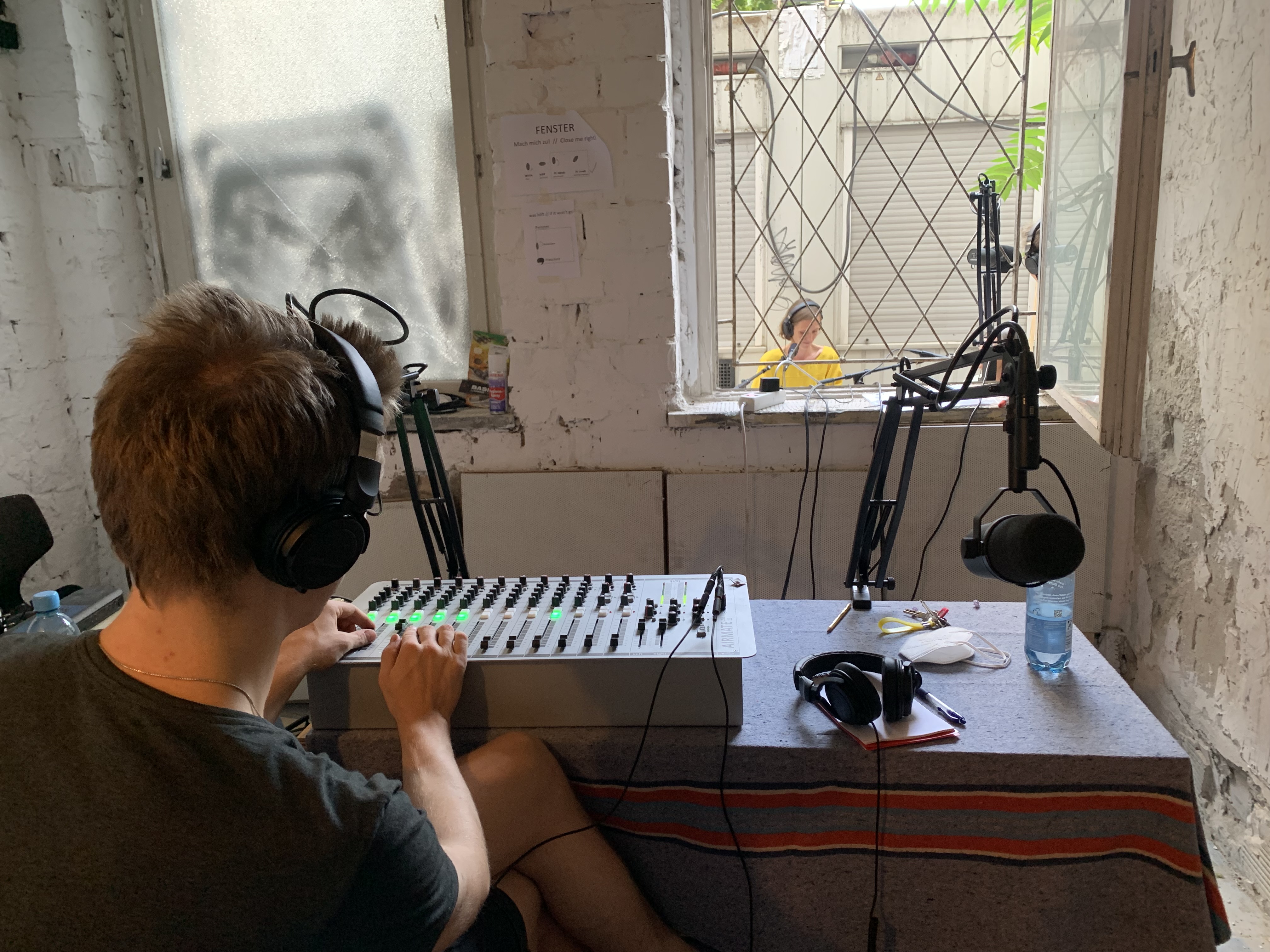 Radio-Kiosk, Haus der Statistik, 2021
Lisette Smits is a curator and educator working between Amsterdam and Sofia, Bulgaria. Her work stems from a set of interrelated concerns and interests, that include the (agency of) voice in and outside of art; what constitutes an artistic practice; the potential of radical pedagogy; and art as social practice.
Currently, she is conducting the research project "Migrating Voices" (since 2019), that aims to further engage with the agency of voice, in a wider geographical context and cultural field. The research unpacks different manifestations of the voice, explored through real, virtual, digital, juridical, as well as fictitious bodies, transgressing both temporal and material borders, disclosed in different performative / educational and discursive programs. The most recent program that was realised in this framework is the School of Kindness, a collaboration with Æther Art Sofia, which took place in Sofia, Bulgaria last month.
Rosanna Lovell is a musician, educator, performer and radio maker from Australia who has been living and working in Berlin since 2009. Her practice focuses on feminist and postcolonial perspectives in classical and new music which she explores through performance, intervention, sound and research. She develops workshops and projects and teaches music.She is on the board and makes radio for Freie Radios Berlin-Brandenburg, where she focuses on topics such as music, gender and accessibility in and through radio. Her regular shows there are "Tuning In / Tuning Out - new paths to classical music" and "elle dit hosts Berliner Runde", a platform for amplifying women's voices heard on the radio, speaking with women artists and creatives working in Berlin. She is part of the collectives Gender Relations in New Music (GRiNM) and FemMusic* which both deal with questions of gender and diversity in music.
Jürg Andreas Meister was born in 1992 in Siegen, Germany. He was drawn to theater after school and worked in dramaturgyand publicity for one season at the Theater Bonn and later at the Deutsches Theater Berlin. He has worked on independent theater and performance projects in Berlin and the Ukraine. From 2011 – 2015 he studied German literature, history and art history first in Berlin and later in Moscow, Russia. Upon return to Germany he turned to the acoustic: from 2015 – 2018 he was assistant editor and director for radio drama and radio art at the radio station DLF Kultur. Since 2015 he has been a presenter and producer for programs at Freie Radios Berlin-Brandenburg and has been a board member of the organization Freies Radio Berlin e.V. since 2019. He also studied a Masters in Audio Communication and Technology at the TU Berlin and since then has worked on many semi-digital projects at the threshold of technology and art.
About Sounds of Breaking Windows:
This radio salon brings artists together who are using the human voice as an artistic means. The use of voice as an instrument for expressing, exchanging, debating or negotiating observations and thoughts, has been a common thread through out the Salons organized by ABA over the past 10 years. Whether imposing a monologue, embroiled in dialog or bursting out in polyphony: voices often not only serve as a means of presentation, but also an artistic material within itself. We connect different understandings and artistic approaches of the use of the voice, aiming to grasp ways in which they overlap, bouncing between the idea of the human voice as being a vehicle of thought, a source of aesthetic adoration.
This event was made possible with the kind support of the Berliner Senat für Kultur und Europa and the Mondriaan Fund . Photo image header by ABA e.V.